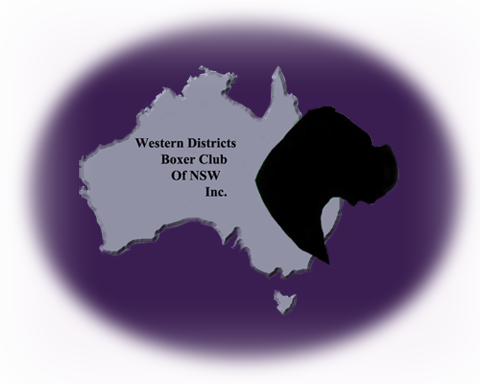 WESTERN DISTRICTS BOXER CLUB OF NSW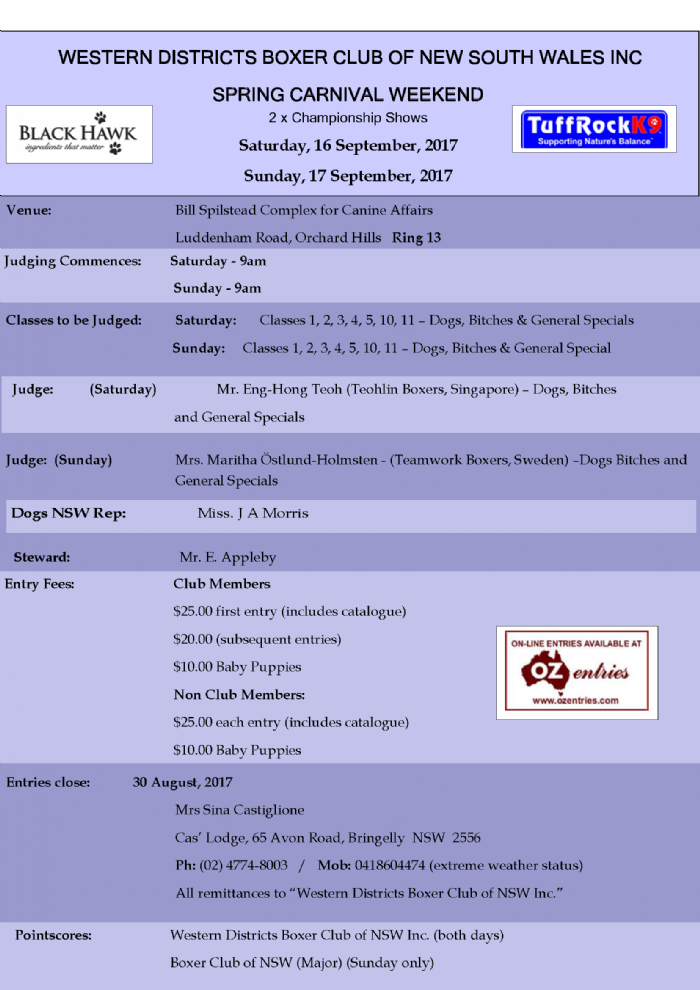 Western Districts Boxer Club Spring Carnival Weekend
​Sponsors will once again be "Tuff Rock K9" and "Black Hawk"
We appreciate the support of these two respected companies.
***

*** ***

***

The Championship Show Saturday 16th September 2017
​will be dedicated to the memory of David Crooks, from the well known and respected Tyeanbo Boxer Kennel in Australia. We hope you can join us to help us make this day a very special one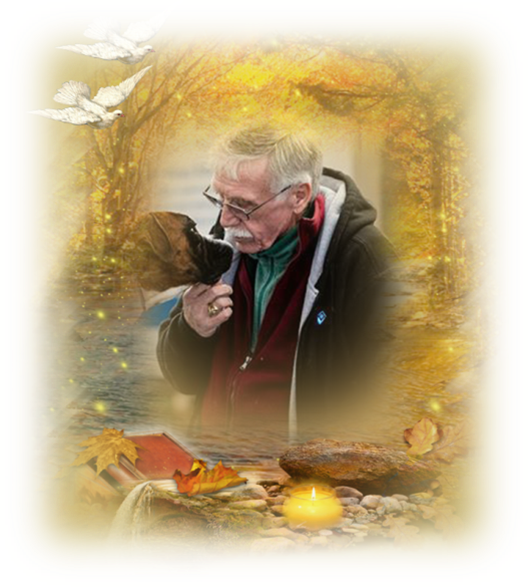 Meet our Judge for the show
C.V. of Mr. Eng-Hong Teoh , Singapore, for Judging Appointments
Mr. Teoh's serious association with show dogs started with Boxers in 1967 when he saw CH. Panfield Cassidy owned by Prof. and Mrs. Oehlers at the third championship dog show in Singapore. From a breeding of a daughter sired by US import, CH. My-R Penny Ante ( an Ovation son) to their dog, a Cassidy son, he produced the first boxer champion to be bred in Malaysia, CH.Teohlin Sasha. Other US imports joined their kennel, US/Mal CH Treceder's Liberty Bell and Mal. CH Bry - Crest Galle's Kicker and these in turn produced more champions for the Teohs under their kennel name, TEOHLIN.
Mr. Teoh moved back to Singapore in 1980, and subsequently relocated to London in 1986 where he remained for over three years. Whilst these moves interrupted his boxer breeding programme, the Teohs managed to finish champions in L/H Dachshunds, Chow Chows and L/C Chihuahuas. They continued to keep boxers in the US and together with Mrs. Eileen McClintock of the famous Holly Lane kennels in US, they have so far co-bred 3 US champions, one of which, US CH. Holly Lane Baccarat of Teohlin, won the stud dog class at the 1997 American Boxer Club national specialty show and the sire of ABC's winner's bitch in 2000. Baccarat and his litter brother, US CH. Holly Lane Fantan of Teohlin have since become US sires of merit. He is the co-owner of the second ranked boxer in US for 2006, CH. Burwood's Drive'm Wild Dreamweaver. He has also co-owned boxers with Cora Verhulst of Tradonalee Kennels in Vancouver. He has had similar success in Chihuahuas with champions in US, Japan,Philippines and Singapore.
During his stay in Malaysia Mr. Teoh was the President of the Malaysian Kennel Association in the mid-70's. Whilst in Singapore in the 80's, he served as director/treasurer of the Singapore Kennel Club and he was also the chairman of their judges' training scheme. He was appointed a championship show judge for working and pastoral breeds in 1985 and has since judged in South East Asian countries, Australia, New Zealand, the UK and US. He now lives in Singapore where he keeps Chihuahuas. He has had great success with Chihuahuas making up champions in Singapore, US, Japan and the Philippines. His stud dog, AM/Spore CH Ouachitah Yeoman, was top producer of all time for all breeds in Singapore with 11 champions.
He is licensed by the Singapore Kennel Club to judge the working and pastoral groups at championship show level and hound group and Chihuahuas at open show level.

The Championship Show Sunday 17th September 2017
​will be dedicated to the memory of Alessandro Tanoni, from the world known and respected del Colle Dell'Infinito Boxer Kennel in Italy.
We hope you can join us to help us make this day very special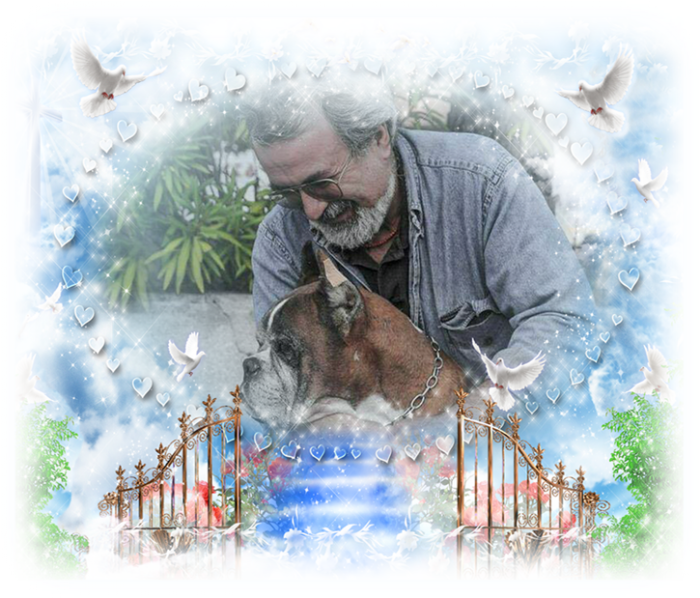 Meet our Judge for the show
CV. Maritha Östlund-Holmsten.

To be invited to judge in Australia a second time is absolutely fantastic. I had a great time last time I was invited to your extraordinary country, we stayed for a month in combination with judging in New Zealand. The people were so kind, friendly and full of sportsmanship last time I was here and in circumstances like that, it is nice to be a judge and enjoy the pleasure of judging other breeders breeding. I think you have to be humble when you judge others breeding, it is often hard work and years of planning for the litters, and the adult boxers I have my hands on is the result of that 😊

When I am judging, I love to "talk to the people" about the dogs in the ring – of course in a friendly and polite way!! In my opinion, and for me, it is important to have that possibility. To tell both the owners and the people around the ring what I see and why I have the placements I have in the classes maybe helps to "follow my judging and why I do as I do" 😊 If that's possible I will love to judge like that, but if not, of course I will judge in the way you want me to!

My life with boxers started when I was 16 years old and my love for the breed gets stronger and stronger. Since 1976 my husband and I breed Boxers under the prefix Teamwork. We breed "all-round" Boxers and have had both Champions and CC-winners from every litter and many of them are highly merited in working trials as well. In Sweden working merit is required for champion title.

I have a keen interest in all aspects of dogs, including the work of club activity. I have been involved in the Swedish Boxer Club since 1972 and has worked in the board almost all the time until now, many years as its President. Today I help current President with breeding- and health questions and, for example, conferences for breeders.
I am also a part of the Swedish Kennel Club Board of Directors, since four years responsible for the Committee of dogs mentality.

I was authorized as an FCI-judge in 1998.
Since then, I have had the great privilege to judge boxer in a number of countries and in four continents. Some of the countries are Germany, Luxembourg, Italy, Spain, Portugal, Serbia, Holland, Russia, Lithuania, Latvia, Estonia, Denmark, Finland, Norway, USA, Australia, New Zealand, Great Britain, Ireland and of course, SwedenJ
I have judge ATIBOX World Show three times, in the Netherlands 2004, in Poland 2010 and in Germany 2015. Next year, 2018, we have ATIBOX in Sweden, in Malmö. I am vice general for the arrangements and Anders Härnman is the general. Anders is judging ATIBOX in Slovakia this year and the Swedish Boxer Club has an information tent. Welcome to visit the Swedish tent, if you are visiting ATIBOX in Slovakia.

I think It is important to visit different countries and continents to study boxer, talk to breeders from different countries and with different interests. We think it´s important to look across borders, to see typical, correct boxers in maybe a bit different types and discuss with people that are "old" in our breed. We have so much to learn from them, but never forget to learn of the new ones influence…

Looking forward to meet you in September.

Best wishes
Maritha
Contact Details
Secretary - Mrs Sina Castiglione
Address: Bringelly - NSW
Phone: Home: 02 4774 8003/ Mobile: 0418 604474


Email: wdbcsecretary@bigpond.com