8th September 2013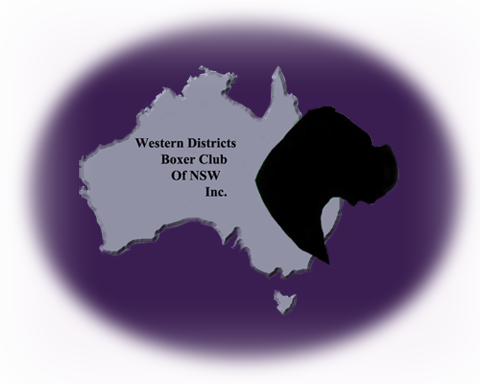 Weather: Cloudy but nice 26C

Boxer Entry: 67

*Denotes No In Class

Baby Dog*5




1.Calivale Luvin Every Minute

- BJ Santas


2.Tonup Gentleman Caller

- E Davies / L Corbett


3.Rhadlon Last Man Standing

- L&DM White



Minor Dog


NO ENTRIES



Puppy Dog




1.Tobana Target Tim

- J Robbins


2.Craihall Look At Me

- J&M Craig



Junior Dog*8




1.Gemcharm A Lil Bitof Attitude

- AR & SJ Dell


2.Ozstock The Main Event

- D Bradshaw


3.Casqueen Bay Richo

- S & SC Castiglione



Inter Dog




1.Vineen The Godfather

- GJ Custance


2.Guntop Afficionado

- WM & EM Gunter


3.Guntop Good Heavens

- WM & EM Gunter



Aus Bred Dog*6




1.Casqueen Eurostyle

- K Oliver & K Towns


2.Ch. Hollyview Mr. Mysterious

- B. Thompson


3.Ch. Guntop Industrious

- WM & EM Gunter



Open Dog*8




1.Gr. Ch. Targeted By Newlaithe (Imp UK)

- D&S Crooks


2.Gr. Ch. Suromar Misionimpossible

- R. Knox / S C Res


3.Ch. Ozstock Sock It Toya

- D Bradshaw



CC Dog:

Gr. Ch. Targeted By Newlaithe (Imp UK)

- D&S Crooks


Res Dog

:

Gr. Ch. Suromar Misionimpossible

- R. Knox / S C Res



NEUT DOG

-

Neut. Ch. Lehearn Sea Breeze

- K Gordon
Baby Bitch *8




1.Ozstock Little Purfect

- D Bradshaw


2.Ozstock Miss Eastern Suburbs

- D Bradshaw


3.Calivale Not For Love Nor Money

- BJ Santas



Minor Bitch*2




Bocsavil Just As Enchanting

- M & J Carey



Puppy Bitch*4




1.Juelle Targeted to Ozstock

- D Bradshaw


2.Casqueen TerraCotta

- S & SC Castiglione


3.Craihall New Beginnings

- J&M Craig



Junior Bitch*7




1.Gemcharm A Little Princess

- AR & SJ Dell


2.Tonup Forget Me Not

- SA Evans


3.Kaztornic Aces High

- J Strachan / K Oliver



Inter Bitch*5




1.Ch. Norwilbeck Star Review (Imp UK)

- G & S Langley


2.Ch. Tyeanbo Dora The Explorer

- D&S Crooks / G Munro


3.Ch. Bocsavil Goody Goody Two Shoes

- K. Gordon & E Gordon-Pandelis



Aus Bred Bitch*7




1.Ch. Oleala Eat Your Words

- Mr DA & Mrs JF Strachan


2.Ch. Tyeanbo Miss Smarty Pants

- D&S Crooks / G Munro


3.Ch. Vineen All Made Up

- GJ Custance



Open Bitch*1


ABSENT
CC Bitch:

Ch. Norwilbeck Star Review (Imp UK)

- G & S Langley


Res Bitch:

Ch. Tyeanbo Dora The Explorer

- D&S Crooks / G Munro
NEUTERED BITCH - NO ENTRIES
BIS/BOIS
-
Gr. Ch. Targeted By Newlaithe (Imp UK)
- D&S Crooks
RUBIS/BIIS
-
Ch. Norwilbeck Star Review (Imp UK)
- G & S Langley
BBIS
-
Ozstock Little Purfect
- D Bradshaw
BMIS
-
Bocsavil Just As Enchanting
- M & J Carey
BPIS
-
Tobana Target Tim
- J Robbins
BJIS
-
Gemcharm A Lil Bitof Attitude
- AR & SJ Dell
BABIS
-
Ch. Oleala Eat Your Words
- Mr DA & Mrs JF Strachan
BEST NEUTERED IN SHOW
-
Neut. Ch. Lehearn Sea Breeze
- K Gordon
A "FULLY MARKED SHOW CATALOGUE will be loaded up to Facebook for your perusal

Facebook URL
https://www.facebook.com/groups/285146951602383/#
Please Note: Acrobat Reader is needed for downloading.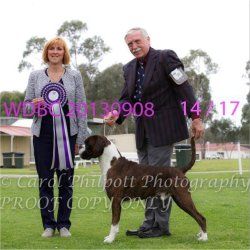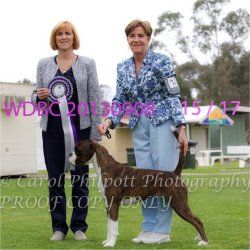 BIS/BOIS/CC DOG RUBIS/BIIS/CC BITCH
Gr. Ch. Targeted By Newlaithe (Imp UK) Ch. Norwilbeck Star Review (Imp UK)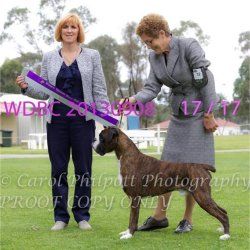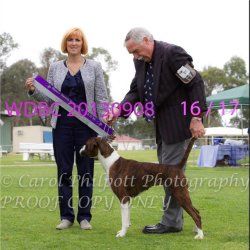 RES DOG RES BITCH
Gr. Ch. Suromar Misionimpossible Ch. Tyeanbo Dora The Explorer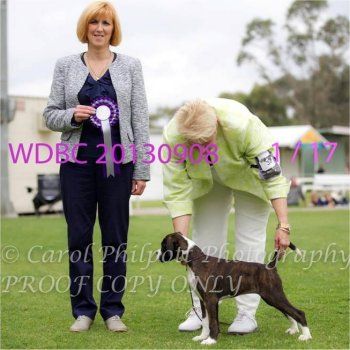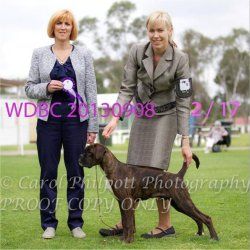 BBIS: Ozstock Little Purfect Opp Best Baby - Calivale Luvin Every Minute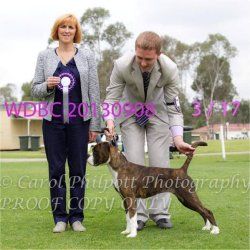 BMIS - Bocsavil Just As Enchanting (No Opp Minor)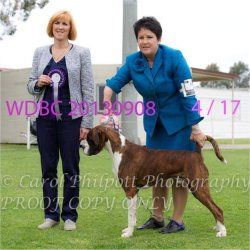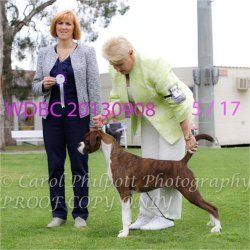 BPIS - Tobana Target Tim Opp Best Puppy - Juelle Targeted to Ozstock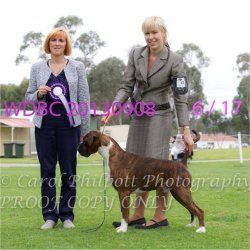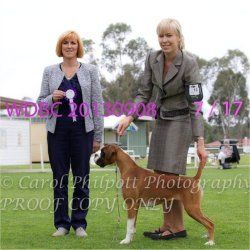 BJIS - Gemcharm A Lil Bitof Attitude Opp BJIS - Gemcharm A Little Princess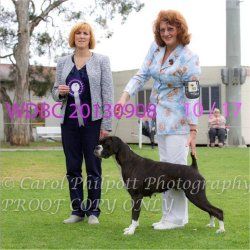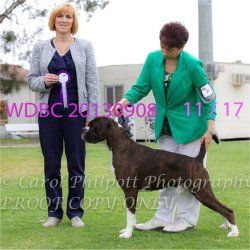 BABIS- Ch. Oleala Eat Your Words Opp - BABIS- Casqueen Eurostyle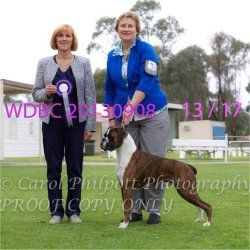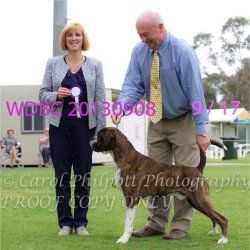 Best Neutered In Show - Opp Best Int - Vineen The Godfather

Neut. Ch. Lehearn Sea Breeze
CONGRATULATIONS!!
Contact Details
Secretary - Mrs Sina Castiglione
Address: Bringelly - NSW
Phone: Home: 02 4774 8003/ Mobile: 0418 604474
Email: [email protected]