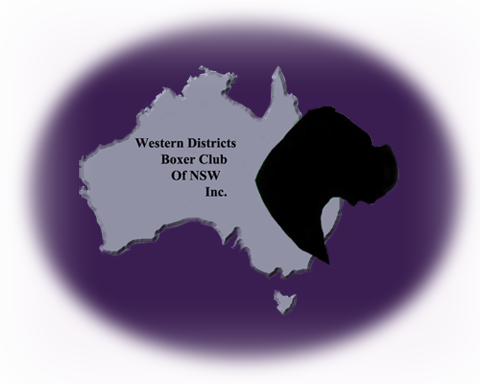 ​
This page is dedicated to those beautiful Boxers that we have so much to be thankful for
Without them our breeding programmes would not be where they are today, and we would not have had the amazing opportunity of owning and loving each of these beautiful friends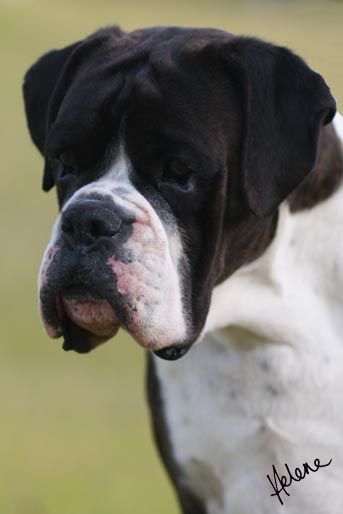 National BISS CH Jimbren Jet Setter (Imp UK.)
" JET"
12-2-03 - 21-3 2013

Words cannot describe this wonderful boxer boy. In all his life he never put a foot wrong, never misbehaved, never had an argument and when asked to show did so with pride and joy.
He was handled mostly by Renee Keays who loved him dearly as we who knew him did. Our hearts will ache for him forever for when he went he took them with him.
Achieving at the highest level he was a joy to show.
God bless and keep this sweet soul safe and well into eternity.
Grateful thanks to Brenda Groves and Steve Hare, Jimbren, for allowing us the pleasure of his
company.
Gavin and Eileen Custance,
Renee Keays and all his friends at Vineen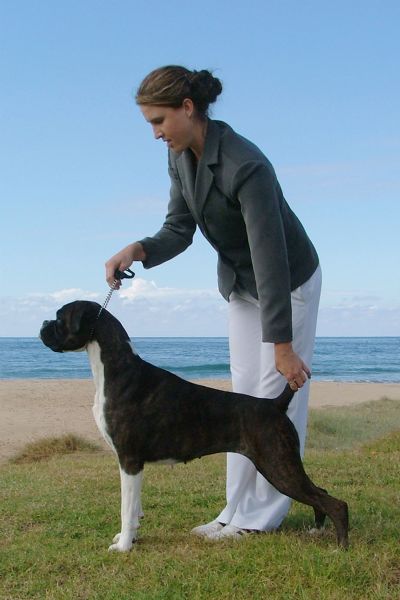 ​Ch Vineen Angel Babe
​" BABE"
I can't imagine that the pain and emptiness we feel today will ever go away.
You were a piece of our family and you will be so sadly missed, we were all so blessed to have been able to share our lives with you!
Your nine years here on earth was just not long enough and although you are now gone - You will NEVER be forgotten
May you now rest in peace beautiful girl and when my time here on earth is done, we will be re-united in heaven!
Thankyou Gavin & Eileen Custance for breeding and allowing me the privilege of owning such an AMAZING dog!
​Renee Keays - Suavee Boxers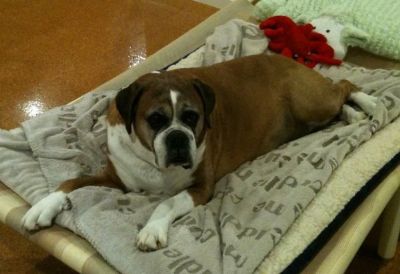 CH Boxamore Mia Caramella
"CARA"
Our beloved "Cara" passed away peacefully at her chosen time on a perfect autumn afternoon on the 11th April, 2013; she was almost 11 years of age. Special from the whelping box, this beautiful deer red daughter of Innsbruck Oats n Barley & Boxhaven Hot N Wild, has left an indelible pawprint on our hearts, quite literally a once in a lifetime dog, "Cara" excelled at everything she did.
Her first BIG came at the tender age of six and a half months she went on to be runner up top puppy at the prestigious OZCARS and a multiple BIG winner her exploits in the show ring were equally matched by her wonderful temperament and demeanor.
The leading Red female in the Boxer Club pointscores for 4 years, "Cara" twice represented the breed at the prestigious Utility Dog Club battle of the champions, once to the quarter finals. A wonderful show dog, she always went out and did us proud. Three weeks before she passed away we took her with us to a show at Hillsborough & she still expected to have her turn at being groomed and chalked.
She was the grand matriarch at Boxamore & all respected her authority, young & old alike, she exuded those wonderful Boxer characteristics that set the breed apart.. This was combined with a funny disposition that endeared her to all those lucky enough to know and love her.
A faithful companion, to the end, one of her greatest joys was to go out walking, and we shared many special times with her at our side.
Cara's special qualities live on through her son, Ch Boxamore Nicholas Nickleby,
It is hard to imagine how much we miss "Cara", she was so much more than a dog to us & has left a hole that can never be filled. There is no measure for the privilege of owning a dog from birth to death, we count our blessings at having shared her life & of the many wonderful memories we have created together. Rest in peace our beloved Cara.


Graeme and Susan Langley - Boxamore Boxers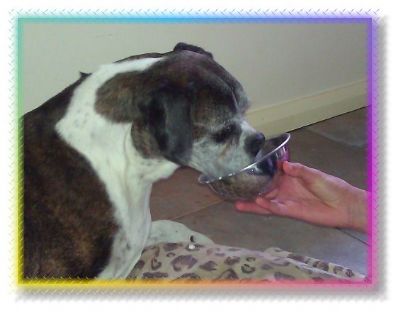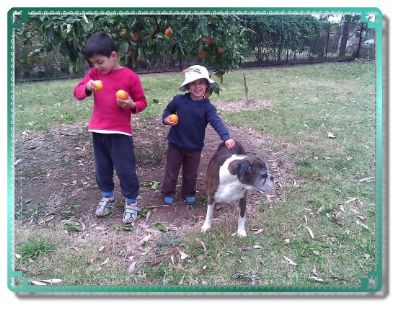 Vineen Dixie Belle
" ELLIE"
​24. 04 1999 - 03.11.2012
Our beautiful golden oldie, Ellie left us peacefully and unassisted over the weekend in her favourite sleeping position on her bean bag. Ellie was, without a doubt "Top Dog" at Casqueen. She demanded the respect from all our Boxers over the years. Ellie always had to be where the action was and up until a couple of weeks before her passing, she insisted on following us up to the kennels and back every morning and every evening, no matter what the weather was like, rain, hail or shine Ellie was there – our constant shadow. Preferring Sam's company when he was home, but settling for mine when he wasn't. Ellie loved baby puppies and whenever we had litters on the ground she would hang around the whelping quarters knowing that these puppies would soon emerge and play with her. At age 13 she still took them under her wing and stood there trying to feed them and teach them manners.
Ellie was recently diagnosed with heart arrhythmia and congestive heart failure and even though she was placed on medication, we were told that due to her age, she would probably not have long. She lived her life as per normal coming and going from the house as she pleased and although very slow and not eating very well in the last couple of weeks, she was still able to push the flap on the dog door without any assistance at all - right up until the day she left us. Always a very strong willed girl, she did things her way and we somehow knew in the back of our hearts that she would go peacefully when she was ready to go and that's exactly what she did. Ellie would have been 14 in April next year. Even though this is considered a great age for a Boxer and we knew her time was near, it is not easy to accept that our beautiful golden girl, who was such a big part of our lives for so long is now gone. Ellie will live forever in our hearts and the beautiful memories we have of her very full life will always bring a smile to our faces. God bless you and keep you safe - rest in peace our beautiful golden girl, until we meet again.
​Ellie was sired by Jenroy Jagged Edge At Vineen (Imp. UK)
​Her Dam was Ch Vineen Turo's Girl
​Sam and Sina Castiglione - Casqueen Boxers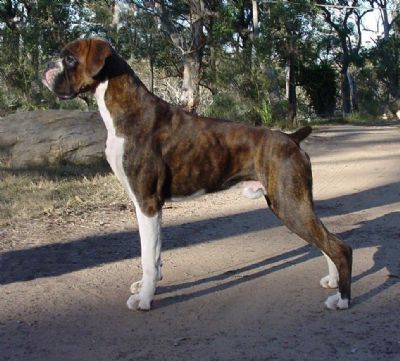 BISS Gr Ch Jimbren Sun Seeker To Vineen Imp. UK SOM

"DIESEL"

DOB: 12-2-2003

Jimbren Royal Command At Toriman X Winuwuk Misty Skies At Jimbren


It is with great sadness we announce the loss of our dearest Diesel. Diesel was let go on 1-12-2012 after a battle with a spinal infection that became untreatable and on the advice of our Vet we made the decision to help him pass.

To say a piece of our world has gone is poor indeed. Diesel was a beautiful boxer, an outstanding dog and a friend of endearing character.

His career in the show ring was a shining reflection of his quality.

His first year in Australia saw him as Top Puppy having only been shown for six months.

Starting off with BOB over 90 boxers at 10 months, he achieved his Australian Championship at 14 months of age .He was awarded Grand Championship title, after earning 1000 points and every one of those points was earned in breed competition. Diesel was the Top dog in NSW pointscores for 4 years, an achievement not matched by any other dog , in the history of Boxers competition in NSW. Too numerous to mention are so many BOB, Royal BOB, Group and In Show wins.

He was a Sire of Merit twice over and his progeny have earned multiple BIS, BISS, RUBIS , RUBISS plus multiple Specialty and All Breeds classes in Show.

We have to thank Brenda Groves and Steve Hare for allowing us the honour and privilege of having Diesel share our lives and for the legacy and memories he has left at Vineen Boxers.

Diesel has made a unique contribution to the Breed in Australia and it will be a long time before we see a dog of his quality again.

Gavin & Eileen Custance and all at Vineen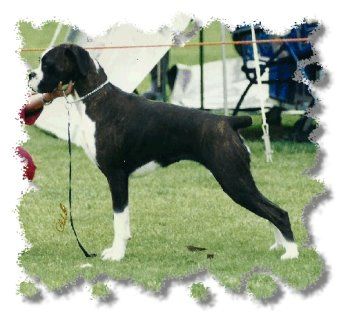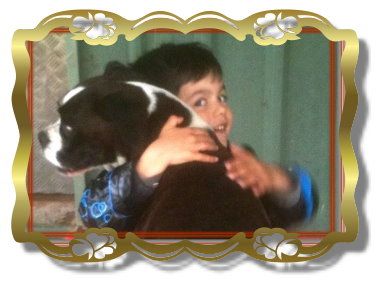 Aust Ch Thasrite Trendy New York

15 December, 2002 – 5 October, 2012
Our beautiful princess, Laura – Aust Ch Thasrite Trendy New York went to the Rainbow Bridge on Friday, 5 October, 2012 - two months short of her 10th Birthday. Not a day sick in her life apart from one month ago when we had a couple of growths removed from her leg, she breezed through the procedure with absolutely no problems and continued her life as per normal. Last Thursday was no exception, we had a play, then a rest, then dinner, then bed. She went to sleep in her usual manner and decided it was her time to leave this world.

Laura was a true character, always at the ready to have a play with anybody who cared to take the time to throw whatever she could drag over to them, the items would range from the usual doggy toys to bits of wood, sticks, branches just about anything she could get her mouth around and had the strength to drag over to you. She would play the retrieval game for hours on end if you had the time, Laura sure had the stamina. An excellent baby sitter she would play with children all day if they had the energy to keep up with her, this being her very favourite pass time, she was like this from the day she joined us to the day she left us.

Such a character she brought a smile to all who knew her - you would never think she was almost ten years of age, not even the slightest grey anywhere on her. It was a massive shock to us but she had decided it was her time.

We are all the richer for having had you in our lives. Be free our pretty princess, run free with all your toys until we meet again one day. Our love for you will never end and our memories of you will never fade.


Laura was sired by Aust. Gr Ch Thasrite The New Yorker x Aust Ch Thasrite Nova Peris. Laura lives on in her children, grandchildren and great grandchildren.
Sam and Sina Castiglione - Casqueen Boxers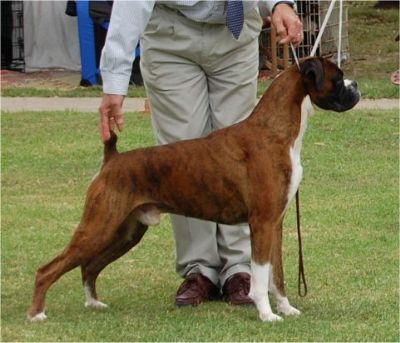 BISS, RUBISS, Australian Champion Vineen Bronze God

30th May 2004 - 3rd August 2012


It is with the deepest regret that the kennels of Vineen and Krisjo announce the
death of Australian Champion Vineen Bronze God.

Known simply as Nat to his friends, he was bred by Eileen and Gavin Custance of
Vineen Boxers, joining Chris Hall and John Waldon, at Krisjo, who were privileged
to co-own him and make him up to a champion in the first year.

For a further five years Nat achieved huge success under national and international
judges always accompanied by Chris, his talented handler.

Despite his cool, calm and collected attitude in the show ring, Nat possessed a real
sense of fun and was always ready for a rough and tumble, that certain look in his
eye speaking volumes, giving him the nickname at home of "Devil Dog."

Far from being demonic, Nat was extremely handsome, loving, loyal and
courageous. A true Boxer in everyway and a delight to live with right up to the end.
Everyone who ever had the pleasure to meet him will never forget his eagerness to
give them a kiss and a wag of his tail.

We miss you Nat old mate. Sleep well.
They can never retire you now.
You will live
in our hearts forever.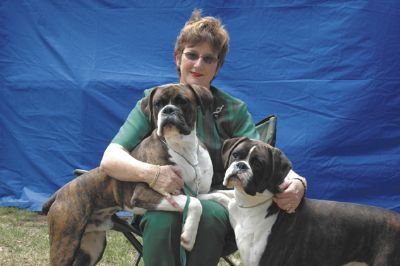 " FOLLY" and "HANSIE"
The end of an era Folly & Hansie are duely missed by all. They were great friends and companions
CH Thasrite Seaside Folly 13/12/2004 - 3/12/2013 (Folly)
Sire: GR CH Thasrite The New Yorker
Dam: CH Thasrite Bikini Briefs
CH Thasrite Ice Sailing 20/12/2004 - 13/11/13 (Hansie)
Sire: CH Winuwuk Plane Sailing (imp UK)
Dam: CH Stephara Ice Breaker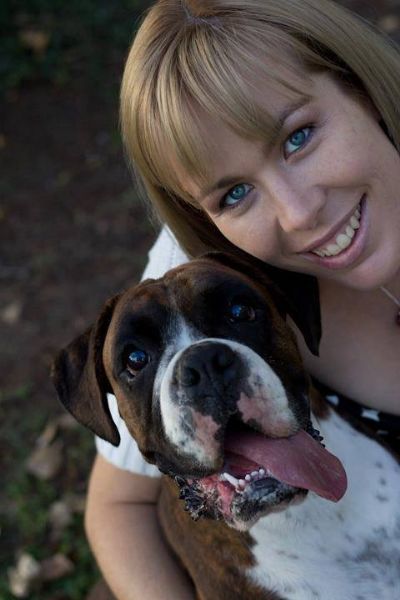 Vale 8-11-2010 - 25-12-2014
RUBIS MBIG MRUBIG IISS MPIS, Aust Ch Gemcharm Im So Hottsowhat... "MADDIE"
Madison, Moo aka Kiddo my absolute Heart and Soul, my Number 1, she was our very first Gemcharm baby...she was first out and named only minutes after birth...there was not a day that has gone by that she has not brought total joy to it, she was the perfect girl in everyway, there are truly no words to describe how much she meant to us or how much she was loved she was the lif
e of our house hold bringing us constant laughter everyday, anyone that truly knows Maddie can only understand just how perfectly unique she truly was...an absolute Dream to Show we worked together like magic, she and i were the perfect team winning us our very first RUBIS was just one highlight of her time in the ring, i could go on for days about how amazing she truly was but i don't think there are enough tissues to help me through it, i still cannot believe that she is not here this morning to nudge me in the face and say get up mum..come on!!! We still are very unsure of what truly happened to her on Tuesday, she fought like crazy and the toughest dog the vets have seen considering her condition she was a fighter completely stubborn and only her mumma knew when it was time as she would just never leave me until i told her it was ok! She was the Number 1, the first born so typically she would have to be the first to go...and to make sure she left it until today so it would make such an impact so we will always celebrate how amazing she was, we are still trying to work just how to face each day.. Thankyou for all the prayers and well wishes it means so much to all of us...RIP my dear sweet MOO we are going to miss you like crazy!! We just love you so very much xxxxxxx

Contact Details
Secretary - Mrs Sina Castiglione
Address: Bringelly - NSW
Phone: Home: 02 4774 8003/ Mobile: 0418 604474
Email: [email protected]