​
Don't Forget Our Next Meeting...Tuesday 19th June commencing at 8pm.
As the venue for meetings has not always been available recently, if you would like to attend a meeting, Please contact the secretary prior to the meeting for venue confirmation.Visitors are most welcome.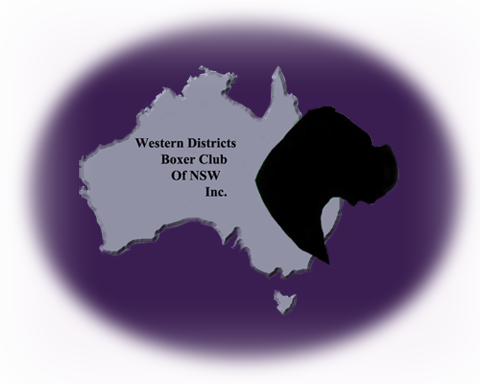 The Western Districts Boxer Club of New South Wales Inc., is affiliated with Dogs NSW and a member Club of the National Boxer Council of Australia.
Our Club hosts two Championship Specialty shows in Sydney each year. The shows are held over one weekend in September, which is early spring in Australia. We like to give our shows an international feel by inviting Boxer specialist judges from around the world to officiate.
The Club also hosts a presentation each year to recognise our member's Boxers who have gained various titles over the previous 12 months. In the past this presentation was conducted in conjunction with an open show. More recently, with the club's run-off style competition between the top qualifying Dogs, Bitches and Puppies, The yearly presentations are now held after the judging of the Championship show each September.
General meetings are held bi-monthly and visitors are welcome to attend. Information on general meetings can be found under the "News" page on this site.

Although the Club's Constitution was passed by the NSWRAS in 1971, the Club was actually formed in 1962, as a result of some members residing away from the City and finding it difficult to attend scheduled meetings. This Group of members decided to form a Boxer Club west of Sydney, hence the Western Districts Boxer Club of New South Wales was formed.
The Club's originators were Nea Evans, Innsbruck, Tony Dobson, Warnehill. and Shiela Brown, Rauenfels. Some of the early members included Richard Cook, responsible for the first publication of the Boxabiz newsletter, Bev Horan was the Secretary and her husband, Steve, was the Treasurer.
Members from those early days included Edna Robertson, Kevin Wright, Les Sexton, Reg and Ann Briant, Elaine and Lenny Williamson and Julie O'Donnell.
Meetings were held at various times in Orange, the Melrose Hall at Emu Plains, and Leonay Golf Club.
The Club's inaugural show was held in 1967, the Club's second show was held in May, 1968 and the third show was held on the 11 May, 1969. Although not much is known about the first two shows, the third show was actually documented in the press and was judged by Mr W Egan of South Australia. Mr. Egan attracted an entry of 129 Boxers with Best In Show being awarded to Mr J A Dobson's home bred Champion Warnehill Tempest from the Open Bitch class. Runner up to Best In Show was the Challenge Dog winner, Ch Tonup Roman Candle owned by Miss E Davies. Miss Davies also won best puppy with Tonup Flowerpot.
The first overseas judge contracted to the Club was Mr Jack Charters from New Zealand
The Club's permanent steward in those days was Fred Price a highly esteemed, and well known Dobermann breeder and exhibitor

Please Note: The Clubs colours have officially changed to a combination of Purple/Silver/Green
LAST UPDATED 5th November 2016
Contact Details
Secretary - Mrs Sina Castiglione
Address: Bringelly - NSW
Phone: Home: 02 4774 8003/ Mobile: 0418 604474
Email: [email protected]
153055 Visitors